State of Connecticut
Improving online access to early childhood resources
Summary
The Connecticut Office of Early Childhood (OEC) engaged us to transform their web presence into a single, user-focused homepage with clear pathways for different users to access the information and resources they need.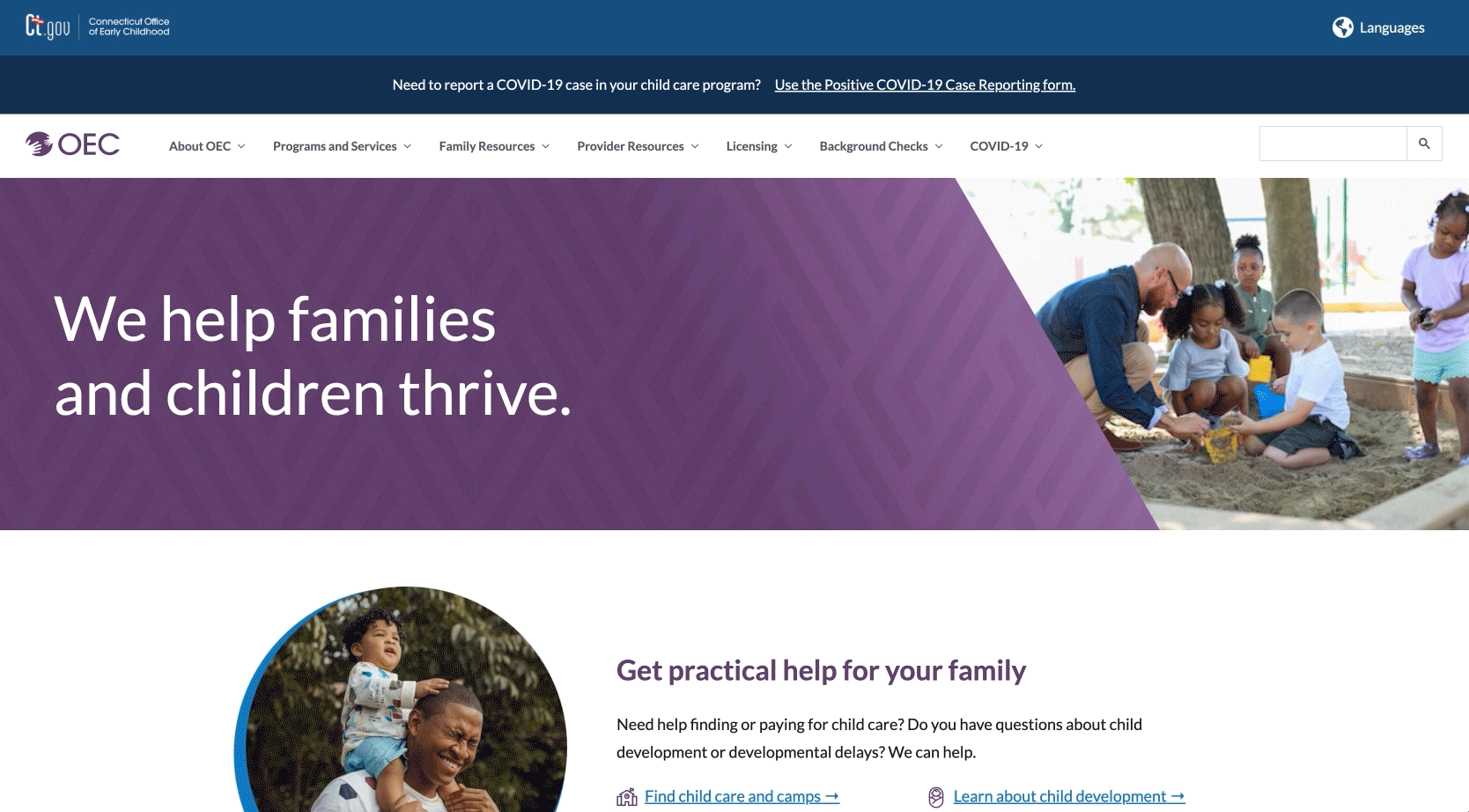 The challenge
A well-designed digital home is critical for providing information and services that meet user needs and expectations. OEC had an out-of-date web presence that made it difficult for users to access the important resources that OEC provides to support young children and their families.
Feedback from users made it clear that the site was hard to use and frustrating for the audiences that need it the most — childcare providers, families, and even OEC staff. Some of the most pressing issues included outdated forms, confusing language, and a desktop-only experience.
The forms online, many of them are outdated. So I don't look online.

Research participant
This was a clear challenge for OEC in advancing its mission to support over 200,000 young children across the state.
The solution
To address this challenge, we engaged OEC in an agile, user-centered process to support the redesign of their website. This process involved collaborating with dozens of OEC users and stakeholders to create a solution that:
Meets a diversity of complex user needs through extensive user research
Makes it easier to search, navigate, and access critical information and resources — such as where to find high-quality childcare providers and how to become a licensed childcare provider — from a single, user-focused homepage
Supports both mobile and desktop experiences Supports incremental releases of website content so value can start being realized sooner rather than later
Can be maintained by internal staff through easy-to-use content management tools, content guidelines, and content design and management training
The results
Incrementally delivered a newly-designed, responsive website in alignment with user tasks, goals, and needs
Fully moved over to the new site in May 2020, which has continually received positive user feedback and attracted 3x more daily visitors than the old site
Enabled OEC to be one of the first agencies within the State of Connecticut to deliver timely, critical online information related to COVID-19, which averaged over 2,000 page views per day during the pandemic period
Clean look, bright colors, not overwhelming, and easy to search.

Community advocate
See all case studies